In This Issue
Click to go to the article.
· Bob's Journey of Faith
Promises to claim for our brother, Bob:
<![if !vml]><![endif]>
Before they call I will answer; while they are still speaking I will hear (Isaiah 65:24).
Behold, I am the LORD, the God of all flesh. Is anything too hard for me? (Jeremiah 32:27).
<![if !vml]><![endif]>
But as for me, I watch in hope for the LORD,
I wait for God my Savior; my God will hear me (Micah 7:7).
<![if !vml]> <![endif]>
The prayer of a righteous person is powerful and effective (James 5:16b).
<![if !vml]><![endif]> But as for me, I will always have hope;
I will praise you more and more (Ps. 71:14).

Quote from
"A Call to an Ancient Evangelical Future"
"Today, as in the ancient era, the Church is confronted by a host of master narratives that contradict and compete with the gospel. The pressing question is: who gets to narrate the world? The Call to an Ancient Evangelical Future challenges Evangelical Christians to restore the priority of the divinely inspired biblical story of God's acts in history. The narrative of God's Kingdom holds eternal implications for the mission of the Church, its theological reflection, its public ministries of worship and spirituality and its life in the world. By engaging these themes, we believe the Church will be strengthened to address the issues of our day."
REMINDER: We need your thesis abstract
DWS graduates: If you have not yet emailed your thesis abstract to me, please do so today. As our Web site goes public these lists will be a valuable research tool. Thanks to all of you who have already sent yours. Check out the thesis lists--this is clearly a deep reservoir of knowledge and practical application.
New resources
New resources are often being added to the alumni Web site. We are working on making these tools available to the general public, but they are at your disposal right now. Check out the resources page soon. In the mean time, here is a link to Jim Dodge's (DWS student) excellent 701 project entitled, The Catechumenate: Can Ancient Traditions Guide Us Today.
Alumni stories:
Remember how encouraging it was to hear and share our personal stories in class and informal conversations? Let's keep connected by sharing through this newsletter. Email an update on your life and ministry to me.
Contact Information

The Institute for Worship Studies
Florida Campus
151 Kingsley Ave.
Orange Park, FL 32073

Ph: 904.264.2172
Fax: 904.278.2878

www.iwsfla.org
Director of Alumni Activities and Editor of Anamnesis

Kent Walters
7323 Westlane Ave.
Jenison, MI 49428

H: 616.457.5234
C: 616.304.9363
W: 616.538.9350 ex 15
Fax: 616.538.3564

alumni@iwsfla.org
In This Issue . . .
First on our minds and in our hearts is Bob Webber and his battle with a very formidable foe: pancreatic cancer. This edition is one more call to prayer on Bob's behalf. Notice the Table of Contents in the sidebar on the left. Now, let's pray:
Loving Father, pour out
your mercy on our brother, Bob.
Touch him with your healing hand.
Let your life-giving power
flow into every part of his body
attacking and destroying
the errant, disobedient cells
and renewing and making
resilient the healthy ones.
Grant to him encouragement,
peace and hope through
your abiding Holy Spirit.
Breathe into the depths of his soul—
cleanse, purify, and restore Bob
to wholeness and strength
that he may continue to serve you.
We pray this in the strong name
of Jesus Christ, our Creator,
Redeemer and Lord.
Amen.
Most of you are probably aware that Bob is battling pancreatic cancer. A rather large tumor was discovered several months ago and ever since Bob has been waging the battle through prayer and every reasonable medical measure to come again this disease.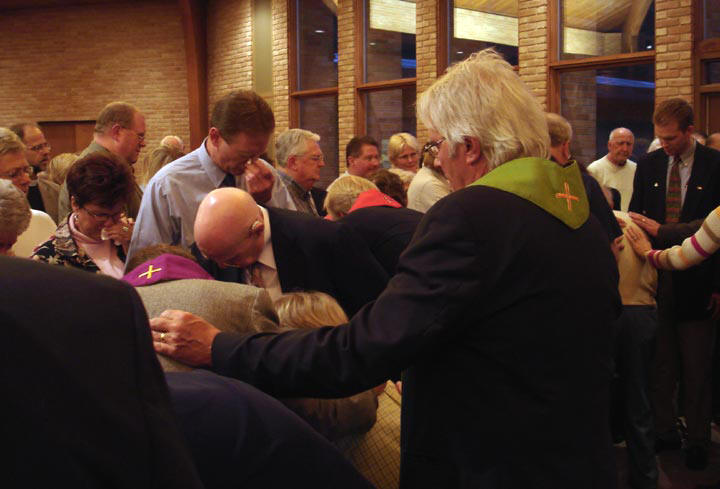 On Monday, September 11, a Service of Healing and Eucharist was held at Bob's request at Harbert Community Church, Bob's church in Michigan. You can see more pictures and a review of that service by clicking here. Here are two more healing service links: Worship Folder; audio file of Darrell Harris' sermon: Meditation on Healing.
The battle is a difficult one to say the least. This kind of cancer is aggressive and stubborn. But Bob is seeking every means of healing both human and divine, and he is giving every ounce of energy the Lord provides in the fight.
The Message Board provides the best way to keep up to date on Bob's progress as his wife, Joanne, regularly emails updates to Jim Hart who quickly posts them on the Board. However, this week (October 26) Bob wanted to communicate personally. In case you haven't read the post here is Bob's personal report on his progress:
First, let me say how much I appreciate your cards and emails. I savor every word and read them over and over, remembering the times we have spent together. So, please keep them coming, they mean a great deal to me even though I cannot answer them individually.
Second, some may think our weekly reports are a bit too honest or that we're losing hope. The fact is that my kind of cancer, pancreatic, has no cure. The cure that we hope and pray for is divine intervention. Yet, we are also following all the traditional and alternative methods of treating this cancer. Those methods, I've been told repeatedly by all my doctors, can do no more than improve my present quality of life and perhaps extend my life by a number of months. 7-14 is what they say but I am pushing for two years!!
There are a few cases where people live longer but they usually have had the Whipple surgery and I am not a candidate for that, at least at this point, because my tumor is at the head of the pancreas and close to several blood vessels.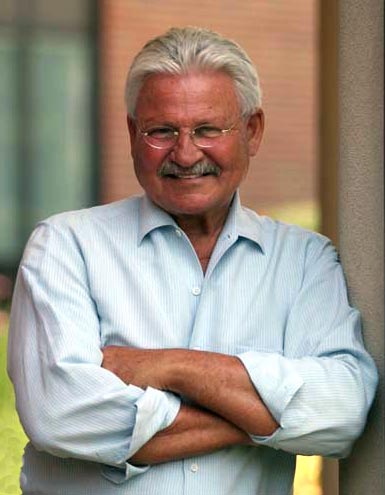 There are times when I get very depressed thinking about leaving my dear wife, children, grandchildren, IWS, Northern Seminary, uncompleted projects, and all my close friends, students and colleagues. I continue to write, however, when I can and have finished one book and I am working on the next one. When I feel down, I take a walk and talk with God and I also cope by taking the Eucharist daily with Joanne.
Third, we've received several requests each week from people who would like to visit with us. I deeply appreciate the love and concern expressed by those who would like to visit. But, because my immune system and energy levels are compromised, I simply cannot receive visitors or take phone calls.
Since I cannot see anyone, I'd like to give you a picture of a "day in the life of this cancer patient." I say "this" because everyone's cancer treatment is different. I am in treatment five days a week, including radiation, chemo and alternative medicine. On the three days we go to Grand Rapids, MI for the alternative medicine, we get up at 6:00 AM, arrive there by 9:00 AM and receive the treatments for 2-4 hours then turn around, drive another two hours back to SW Michigan for radiation at the hospital at 3:30 PM. We get home around 5:00 PM each day and then we have a few hours to eat, check the mail, check the emails, take a walk, take the Eucharist and get ready for bed and the next day.
On Thursdays, I have chemo at a local clinic, it takes about three hours, and then radiation. Tuesday is the only day I just have radiation and that is when I can write on my current book, usually in the mornings. Also, Joanne tries to get home once every week or ten days to check our townhouse, mail, etc. We use the weekends to recuperate, rest, get my energy levels back up and then start again. Our next door neighbor takes me to radiation if Joanne goes home on Tuesday. Otherwise, she goes on a Saturday.
In-between the above schedule, I struggle with nausea, fatigue and also troubleshoot matters to do with IWS, The Ancient-Future Call Conference, Northern Seminary and business matters related to ancientfutureworship. com.
Whew! I am sorry for that long response. Usually, Joanne keeps you up-to-date but I wanted to do it this time even though she's the typist. Please continue to pray for us, as you have been, and especially for Joanne who has been right there every step of the way! I could not deal with all the above without her. We pray for you too, especially those who also struggle with illness and cancer.
We thank God for all of you and your many prayers! Being in the car three to four hours a day, together, gives us lots of time to pray together.
Tennessee Regional Prays for Bob

Susan Huckaby (Iota, DWS 2006), IWS Regional Coordinator in the greater Nashville area, organized a prayer service for Bob on Thursday, September 14 at her church in Brentwood. Here is her summary of that service:
Eight people met in the Memorial Chapel at Brentwood UMC: Darrell and Janet Harris, Shannon Garrett, Rob Still, Chris and Carol Beatty, their guest, and me. We were together about an hour. It was a sweet, yet fervent and focused time of prayer for Bob's healing and the healing of other loved ones. The bond in Christ was strong, as was the bond of fellowship with fellow IWS'ers.
Our prayer gathering was loose and informal. Darrell Harris began by telling us about his visit with Bob and Joanne Webber and then he recounted the September 11 prayer service in Michigan. We prayed an Invitation to Christ in unison, followed by other prayers I had found in different sources (click on the link). We shared numerous of Scriptures for Healing that I had found on the Internet (click the link). Rob Still played the guitar and led us in several songs: Oh Love That Will Not Let Me Go, Oh God Our Help In Ages Past, My Faith Looks Up To Thee, It Is Well With My Soul, and Be Still and Know. Following those songs we prayed aloud individual prayers. Some people knelt at the altar, some bowed on the floor, and others remained in the pews.
Our prayers continue for Bob's complete healing.
Bob has always approached life with vision and zeal. That's one of the reasons so many of us have been inspired by his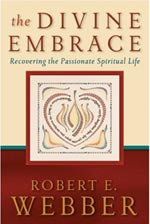 writings and mentored by his life and teaching. As long as he has had energy Bob has continued to create, write and produce books and materials for worship renewal. Here are his most recent accomplishments.
The Divine Embrace: Recovering the Passionate Spiritual Life is Bob's newest book. It is the latest addition to his Ancient-Future series now available through Baker Books. Bob indicated to me a couple sessions ago that this is the most difficult and personally challenging book he has written. The topic is worship and spiritual formation. Brian McLaren believes this is his "best and most important book to date." For more details follow these links: Baker Books and Amazon Books.
Bob led the charge in issuing "The Chicago Call: An Appeal to Evangelicals" in 1977. The treatise had a lasting impact on the evangelical church by, among other things, opening sensibilities to learning from worship in the early church. Now Bob, along with his Northern Seminary colleague Phil Kenyon
, has issued another call: "A Call to an Ancient Evangelical Future" that addresses external and internal challenges facing the Church today in its postmodern and emergent context. Christianity Today featured "The Call" in their September edition. Click here to read the CT interview with Bob on the document. On Bob's Ancient-Future Web site you will find the text of "The Call", a list of the theological editors, and an opportunity for you to become one of the signers. An Ancient-Evangelical Call Conference has been scheduled for December 7-9 at Northern Seminary. Click here for more details.
Bob's goal to impact churches will be advanced with the recent publishing of 30 Days of Worship Discovery. The material is designed to take the entire church on a journey of worship renewal but it may also be effectively used with smalls groups.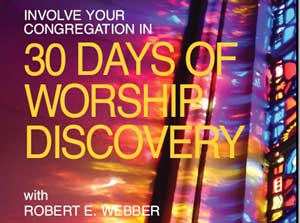 Four DVD presentations by Bob are included (Week 1: God's story; Week 2: How worship enacts and proclaims God's story; Week 3: How we respond to God's story; Week 4: How space, music, and the arts serve God's story) along with outlines, discussion guides, bulletin inserts, posters, sermon outlines, etc. Bob's church in Michigan, Harbert Community Church, was among the first to utilize this material and Bob was invited to preach the sermon for the first Sunday of the journey. Click on the following links to hear an interview with Bob and the Pastor about "30 Days" and Bob's sermon preached on Sunday, September 10. For more details on the materials go to the Ancient-Future Web site.
Bill Eichorn (Alpha, DWS 2002) serves as Minister of Music and the Arts at St. Bartholomew's Episcopal Church in Poway, CA. He has taken choirs overseas several times. Check out the San Diego Choral Arts Ensemble Web page for a picture, choral recording (mp3) and itinerary. Awhile back I asked Bill about his most recent trip and his ministry since graduating from IWS. He writes:
I was able to put a 55 voice choir together last summer (2005) and take them to England and Ireland for two weeks. We sang at Blackburn Cathedral (morning Eucharist and afternoon Evensong), Durham Cathedral (Evensong)

Ripon Cathedral (Evensong), York Minster, Coventry Cathedral, then on to Dublin where we sang at Christ Church Cathedral (concert) and then Pro Cathedral (Sunday morning service). Finally we went on to Killkenny and places south. It was a great trip. I have also been teaching a course at Bethel Seminary here in San Diego. It seems that the Episcopal Diocese has several students enrolled there and they wanted them to have a little more of an Anglican slant to their education. So, I was asked to teach a course. I called it Liturgy and Music in the Anglican Tradition. It was a lot of work but I am having great fun teaching future priests and deacons. I am now celebrating my 20th year at St. Bartholomew's. I send greetings to all my fellow Alphians! Is that a word?
Lyndel Vaught (Zeta, DWS 2005), associate professor of church music, Southwestern Seminary, Fort Worth, Texas, has written an

article to be published in a special spring 2007 edition of Haworth Pastoral Press' Journal of Religion, Spirituality, and Aging. The article, "An Approach to Daily Worship for Senior Adults: Using Worship Models and Music for the Personal Worship of God," is an outgrowth of his thesis project, "A Daily Worship Guidebook to Promote the Personal Worship of God Among Senior Adults During Holy Week." In the fall of 2007 his article, along with writings from four other authors, will be published by Haworth in a hardback book format. Lyndel specializes in the use of music with senior adults.

Barry Wilson (Beta, DWS 2003) is teaching a worship studies course at the new North Greenville University graduate school. The course is an in-depth overview of key biblical principles and historical practices of Christian worship from the apostolic era to the beginning of the 21st century. Barry serves as Minister of Music at Kilbourne Park Baptist Church in Columbia, SC. Barry is also the founder and director of The Doxology Institute.
Jonathan Wong (Eta, DWS 2005) is serving as an adjunct faculty

member at two schools: The Bible Institute of Hawaii which offers non-credit courses for laypeople, and Pacific Rim Bible College (affiliated with Four Square Gospel denomination). Jonathan writes: "I am teaching worship courses at both places. It's been a rewarding experience working with students pursuing ministries in worship."
Now, let's hear from more of you! I've heard that several have been asked to teach worship at various places around the world. I just need a little more information to get the details straight. So, don't be shy. Let me know how the Lord is using you these days and I'll post the info in a future edition. Attach an updated picture to your email if you'd like!
Susan Huckaby, Central Tennessee Regional Coordinator, initiated a great idea to have fellow Iotas read and discuss a book via the Message Board this fall. She chose Brian McLaren's A Generous Orthodoxy for the first read (September) and put the word out. What a great time they're having! Check out what's happening on the Iota Message Board and be prepared to be mentally stimulated! Susan said, "I missed the camaraderie and 'renewing of my mind' that was so prevalent during my time at IWS. It is actually fun, after all those DWS posts for course work, to openly share without the stress of watchful, professorial eyes."
They decided to read and discuss a book every other month and share articles and Web sites during the "off month." November's book is Reggie Kidd's With One Voice, chosen and facilitated by Nancy Nethercott.
This is so cool! Way to go Iota grads!
I'm not sure where this may lead, but I commend this idea to other classes. Just start a post on your class Message Board and let your fellow classmates know about it. (Email lists for each class are available on the site. Click on Directories and then Alumni Directory, then Email Groups at the top of the page). If the Message Board for your class has been removed from the list just use the Alumni Board. Or, we may need to designate a "Book/Topic Message Board" section. Let me know your thoughts.
By the way, the Iotas aren't an exclusive group. Others are also reading and posting in the McLaren book discussion. Everyone is welcome to read and join in the discussion.

Don't forget our next alumni gathering in Orange Park is scheduled for June 16-19, 2007. Our guest will be Brian McLaren on the topic of the emerging church. Save the dates on your calendar. More details later. Brain McLaren's Web site.