The Board of Trustees made the following announcement in January:
The IWS Board of Trustees, upon unanimous recommendation of the IWS faculty, have unanimously approved the change of name of the "Institute for Worship Studies, Florida Campus" to the "Robert E. Webber Institute for Worship Studies," effective immediately. This honors the work of our founding president, Bob Webber, and his contribution to the renewal of worship practice and education.
Believing that IWS is God's school and not his, Bob has been resistant to this suggested change for some time, but agree to it last fall in the midst of his health struggles.
Whereas the official name of the school has changed, we will maintain the use of the acronym "IWS".

Meet James (Jimmy) Abbington, D.M.A., the newest appointment to the faculty. He will teach Postmodern Worship in the master's program beginning in June 2007, at which time we will have a full compliment of the M.W.S. classes on campus together for the first time.
Jimmy is Associate Professor of Music and Worship at Candler School of Theology at Emory University in Atlanta, GA. His research interests include music and worship in the Christian church, African American sacred folk music, organ, choral music, and ethnomusicology. He serves as Executive Editor of the African American Church Music Series by GIA Publications (Chicago) and Co-director of Music for the annual Hampton University Ministers' Conference and Choir Directors' Organists' Guild Workshop.
We extend a warm welcome to Jimmy and look forward his joining the IWS family this June, and we anticipate celebrating his influence on us all!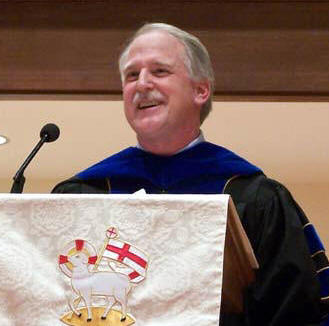 Eric Bolger (Alpha, D.W.S. 2002) has been appointed the new Academic Dean of IWS as of January 2007. He is Associate Professor of Philosophy and Religion, and Chairman of the Humanities Division at College of the Ozarks in Branson, Missouri. Eric also fulfills numerous pastoral responsibilities at Harvest Evangelical Free Church in Branson where he serves as Staff Elder. Eric preached the sermon, "Our Hope," for Opening Convocation this past January. Click here for the audio file.
When Bob became ill last fall, he decided to step down as the Academic Dean of IWS. We discussed several faculty candidates, any of whom could step into the role and do a tremendous job. Eric Bolger's name kept rising to the top of our list. As a faculty member at College of the Ozarks, Eric works full-time in the academic world. He holds a Ph.D. in theology with a concentration in Old Testament from Trinity Evangelical Divinity School, and is thoroughly familiar with the academic nature of IWS. He went through the D.W.S. program at IWS in the Alpha class and was the first faculty member hired in the M.W.S. program. He is also intimately knowledgeable about the accreditation process we are in. He has served on our Strategic Planning Committee since its beginning and led his own college through their accreditation process. Eric is a man of great academic prowess and strength of Christian character. In January, his appointment received the unanimous affirmation of the faculty and Board of Trustees. We are pleased to welcome Eric Bolger as our new Academic Dean!
Editor's note: I asked Eric to write a brief reflection on his new appointment. His response follows:
I am both honored and humbled to have been appointed as Academic Dean of IWS. I realize that in this role I will have the opportunity to serve both students and faculty members, an opportunity to which I am deeply committed. I'm also excited to help as IWS, an institution that God has already blessed so richly, continues and grows in fulfilling its mission.
The fourth annual gathering of the IWS alumni in Orange Park is scheduled for June 16-19, 2007. This promises to be a stimulating and memorable event that will feature a two-day seminar with Brian McLaren—The Church That Is Emerging: The Dance of Ministry on a Moving Floor.
Review the schedule and registration details below and then get your registration in soon as this is a very popular topic and guest.

For most of you Brian McLaren needs little introduction. You have likely read one or more of his books or heard him speak. Needless to say, Brian is one of the foremost voices on the emerging church around the world. For the sake of space I point you to the biography on his Web site to better acquaint you with our guest speaker.
This year's event has been shaped by feedback received from previous post-graduate gatherings (see, for example, the article on seminar feedback in July 2006 Anamnesis). Here is an overview of the schedule:
Saturday, June 16
Alumni Lunch (including an update on the Institute)
Presidential Address (via video)
Visit a DWS or MWS class session
Evening class reunions and alumni gatherings at local restaurants
Sunday, June 17
Afternoon alumni meeting (sharing of vision, ideas and prayer)
Evening Commencement Service (alumni are invited to don their regalia and process with the faculty and staff)
Alumni Dinner Reception (at a local restaurant)
Monday, June 18
Chapel
Morning sessions: Spiritual Formation in the Emerging Church
Afternoon sessions: Public Worship as Spiritual Formation
Evening Practicum
Tuesday, June 19
Morning sessions: Global Mission in the Postmodern World
Afternoon sessions: Evangelism in the Emerging Culture
Evening Service of Eucharist and Healing
Click here for a more detailed explanation of the seminar schedule and session descriptions.
The cost for registration is $100.00 before May 1 and $120.00 after May 1. This fee does not include meals on campus nor those at local restaurants as listed above. The cost for on-campus meals for the entire event is $81.00 (this includes lunch on Saturday and breakfast, lunch and dinner on both Monday and Tuesday). Hotel information will be sent when your registration is received.
To register: Download a registration form (Web page format / MSWord format) and mail the information along with a check to the address indicated.
As the event draws near the sharing of rental cars, hotel rooms, transportation to and from the airport, etc. can be coordinated on the Alumni Message Board.
See you in Orange Park in June!
Please direct any questions you have about this event to Kent Walters.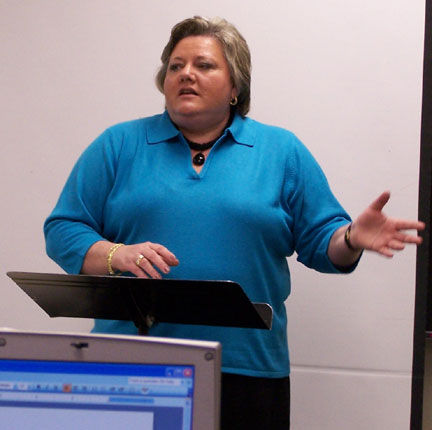 Connie Cherry was a guest speaker this past September at Houghton College in New York. She was the presenter at a worship conference that the college sponsored for area worship leaders. She also spoke on worship in their chapel service.
Connie is presently serving as a consultant for a group of churches who received one of the Calvin Institute of Christian Worship worship renewal grants funded by Lilly Endowment Inc. It is an ecumenical group doing worship renewal together in Blacksburg, Virginia. Five Blacksburg churches gathered on the campus of Virginia Tech to meet with her for two days in November and will return in the spring for an additional time of consultation. The churches are Episcopal, Lutheran (ELCA), Presbyterian (PCUSA), United Methodist, and Baptist.
Reggie Kidd spoke at the January 2007 Worship Symposium at Calvin College in Grand Rapids, Michigan. He was a presenter in the one-day seminar Biblical Psalms in Christian Worship, and he presented two of his own sessions: Jesus in the Songs of Bach, Bubba, & the Blues Brothers, and The "Fifth Voice": A Semi-Sacramental Approach to Song in Worship.
During the Advent and Christmas seasons Reggie did a lot of reading from Athanasius, which inspired the article "Athanasius on the Incarnation: Why Hope and History DO Rhyme." Click here to read the entire blog entry. Visit Reggie's personal Web site.
Todd Farley is currently in a two-year appointment at Calvin College as Associate Professor in the Communication Arts &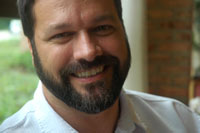 Sciences department. He presented sessions at the Worship Symposium in January as well: The Embodied Preacher and Mime in the Church Today.
This summer (July 12-14) Todd will present a unique workshop at Calvin entitled: Embodying Ministry! Moving Sundays for Pastors, the Public, and Performers. The workshop focuses on using the body as a means of communicating the Gospel through preaching and performance. Click here for more details.
Kevin Johnson (Eta, D.W.S. 2005) serves as Associate Pastor for Music, Worship and College Ministries at First Baptist Church in Boone, NC. He gives the following report on his ministry opportunities.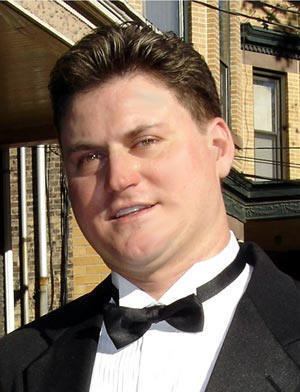 The Lord has blessed me with several publishing opportunities during the past few months. I'm writing a series of articles on Family Worship and Practicing Faith in the Home for Abingdon/UM Publishing's Children's Teacher Magazine. The articles will begin appearing in the Fall 2007 edition. I'm also writing twelve Bible study commentaries for the Biblical Recorder that will run weekly for the first quarter of 2007. In addition to these opportunities, I have been invited to be a contributing author to the Encyclopedia of Christian Civilization (Oxford: Blackwell Press,
2008). I will write sixteen entries for the Encyclopedia on various subjects related to sacred music. I'm so thrilled to have these opportunities to supplement my wonderful ministry here at FBC.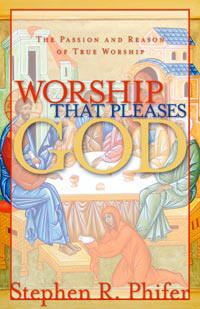 Stephen Phifer (Epsilon, D.W.S. 2004) recently had a book published by Trafford Publishing (July 2006). Written before his studies at IWS, the title is Worship That Pleases God: the Passion and Reason of True Worship. See details on the publisher's Web site.
After learning about his book, I asked Steve about his other ministries.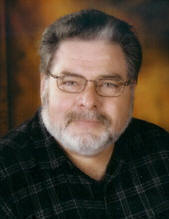 Along with his responsibilities as Music Pastor at Word of Life Church (Assemblies of God) in Springfield, VA, Steve has numerous opportunities to speak on worship in other venues. His recent engagements include speaking on worship at Zion Bible College in Providence, RI, Central Bible College in Springfield, MO, and the National Music and Worship Conference, Assemblies of God at Evangel University, Springfield, MO. This May he will speak for a week at the Romanian Bible University in Bucharest, Romania and help them establish a worship studies program.
You'll observe on Steve's Web site that he writes prolifically and is committed to teaching on worship renewal wherever he goes.
What's happening in your life? Let me know how the Lord is using you these days and I'll post the info in a future edition. Attach an updated picture to your email if you can!
Choral Resources from Dan Sharp
Dan Sharp has just edited a choral repertoire list for Holy Week (mostly Maundy Thursday and Good Friday) and Eastertide. It includes 12 titles for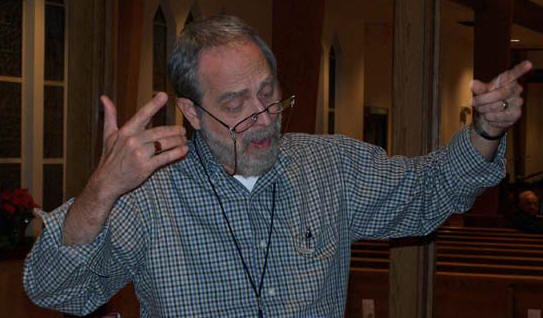 Holy Week, 11 titles for Palm/ Passion Sunday, and 33 titles for Eastertide. Each entry includes voicing, instrumentation and publisher information as well as personal notes and recommended choir size. Several of the entries have links to an image of the score on the publisher's Web site. Click here to access this resource.
Dan anticipates completing an expanded list for the season of Lent as well as one for Advent and Christmas in the near future. Dan's "Favorite Anthems" list is also posted on the Web site.
Due to the generosity of our board, faculty, staff, alumni and students, in just over two months IWS has received $37,276 to date for the Annual Fund. Thank you for your faithful and abundant support! That figure represents 37% toward our 2006-07 budget year goal of $100,000. However, we still have 63% to go to reach our goal for this year. The Annual Fund is used to offset the operational expenses incurred to run IWS and to address our future needs and plans.
In this past January Session we had the largest combined incoming enrollment in the history of IWS. Additionally, we have over 30 applications in process for the June session. As IWS has grown our related expenses have grown related primarily to our accreditation pursuit. The Annual Fund helps us continue to respond to the Lord's leading in fulfillment of our mission of training servant leaders in worship renewal. Our students will greatly benefit from the gifts received, and our leader, Bob, has been encouraged by your support. These funds are channeled into stabilizing IWS' future through recruitment, additional staffing needs, advertising, and development. We are close to our expectation for this campaign of 100% participation from the board, faculty and staff of IWS, and we are anticipating a high percentage of participation from the students, alumni and friends. No gift is too small. Because of our emphasis on worship renewal in light of the Missio Dei (mission of God) we also request that IWS be considered in the mission budgets of your churches. IWS needs the support of the entire team to reach our goals of stabilizing our financial future.
Please give prayerful consideration to the IWS Annual Fund. We are depending on your gift. Checks should be made out to IWS, noted "Annual Fund," and sent to IWS, 151 Kingsley Ave., Orange Park, FL 32073 attn: Dana Brodsky. All donations are tax deductible.
A new endowment fund in the name of Robert E. Webber has been started as well. An endowment must reach $120,000 to fund a chair on the faculty. If you wish to endow a faculty chair in someone's name or contribute to the Webber chair, please contact Jim Hart, Bob Webber or John Lindsell.
Thank you for your consideration and support of the Lord's work in and through IWS.
© 2007 The Institute for Worship Studies