By the end of our two weeks, the eight men in the class decided that the best way to celebrate Communion in their culture (one that places the highest value on relationships) was to sit in a circle outside on the ground so that everyone could see each other. The Communion elements needed to be easily acquired, even by people in bush churches. They proposed water, perhaps colored by the juice of red berries, as a substitute for grape juice, and fried banana (like a fritter) as a substitute for bread.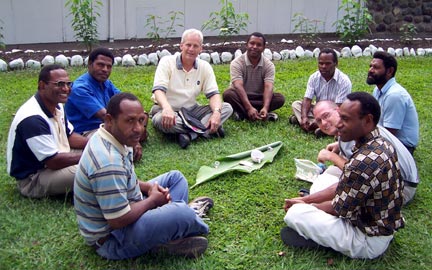 They visualized using a larger section of bamboo as a chalice and smaller sections of bamboo (brought by each family) for the cups. They decided that Communion in their culture would rightly focus on the servant example of Jesus and the importance of loving one another in the community of believers. An important companion theme would be that Jesus invites everyone (from seeker to saint) to gather at his table in growing relationship with him.
There was no doubt in my mind that God called me to the specific task of teaching these men about the depths of mercy and healing available through the sacraments. They will, in turn, teach their ministerial students, whose influence will spread to every corner of the Melanesian world.
Philip Hong Chan (Delta, D.W.S. 2005) is Associate Professor of Church

Music at Hong Kong Baptist Theological Seminary. He also has earned an M.C.M. from Southern Baptist Theological Seminary and a D.M.A. from the University of Cincinnati.
For his doctoral thesis at IWS, Philip chose to write a textbook for the music and worship class offered by the Hong Kong Baptist Theological Seminary. Philip has since translated this ten-chapter textbook into Chinese, added twelve worship designs with detailed explanations and an annotated list of 200 books on music and worship to form the book entitled

Worship and Music: Theory and Practice. This new book was released by the Logos Publishers Ltd. in Hong Kong in July 2005. It was soon granted a bronze award by the Association of Christian Publishers in September 2005 for outstanding book in theological research. Since its publication in July, the book remains the second best selling book of Logos Publishers Ltd.
Congratulations Philip! God bless you as you serve Christ and His kingdom in Hong Kong.
Click here to visit the Hong Kong Baptist Theological Seminary Web site. And, if you can read Chinese, click here to visit the publisher's page on Philip's book.
What? Another book on worship? Yes, by someone we know and trust. Reggie's new book, which includes a forward by Robert Webber, was just released last month.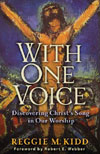 Here's what his teaching partner, Carla Waterman, says about the book: "We sing for Jesus. We sing to Jesus. What I particularly appreciate about With One Voice is Kidd's rich examination of what it means to sing with Jesus. . . . Kidd himself has several voices that all sing with Jesus. The theologian sings with his mind, the artist sings with illustrations from music, art and literature, and the man sings with honest moments from his own journey. They blend together beautifully, and for me there were moments when, even while reading, I began to hear that other voice."
Check out more details on Reggie's Web site and at Amazon.
IWS training changed the way Barry Wilson (Beta, D.W.S. 2003) views the arts. As a result, Barry applied his creative vision to launch a new ministry: The Doxology Institute. Barry also serves as Minister of Music at Kilbourne Park Baptist Church in Columbia, SC.

During my studies at the IWS I had several "ah-ha" moments. The first was during a practicum when Ashley Olsen performed an interpretive movement to "Shout to the Lord." The next came through Mark Torgerson's teaching on visual arts in worship. Then, one day in Carla and Reggie's class I finally "got it" about symbols and symbolic actions. By the time I graduated I realized that the denominational cocoon I had been wrapped in for so many years had burst open and I was no longer the person I was three years earlier. Now the question was what was I going to do about it?
For two years I did little or nothing about it! However, after a series of disappointments in my church and serious questioning in my heart, the Lord helped me begin to focus my training, experience and vision. Combining my background in spiritual formation with my new understanding of worship arts, the Lord led me to form The Doxology Institute.
The mission of The Doxology Institute is to interpret Christian arts to churches, communities, and individuals; encourage artists in their spiritual formation and artistic development; and introduce Christian arts to new audiences. The members of the board of directors are successful in business and deeply interested or involved in the arts. The staff is comprised of highly trained and well-respected artists. Our dance team director has a master's degree and has taught dance on the college level for twenty years. Our drama team leader is working on his doctorate in theatre and teaches at a local Christian university. We have incorporated and have applied for tax-exempt status (501c3) with the IRS. Our Web site (in process pending funds) will be www.doxologyinstitute.org.
Our first project will occur Thursday, March 23, 2006 when we will sponsor a performance by Ballet Magnificat (www.balletmagnificat.org) at the Koger Center for the Performing Arts (University of SC) in Columbia. After this "coming out party" we will be available for workshops and conferences. We will also sponsor HeART groups, which are spiritual formation groups for artists, dancers, actors, writers, musicians, etc. We will continue to bring high quality artists to major secular venues desiring that God will be glorified, believers encouraged, and seekers introduced to Jesus Christ at work in the lives of working artists.
Click here to view The Doxology Institute promotional brochure. For more information contact Barry at bwilson@iwsfla.org.
Gary Matthews (Alpha, D.W.S. 2003) recently accepted a new ministry call. Besides being a Minister of Music, Gary has maintained a concert ministry with his brother, Ron, for years. You may be interested in visiting their Web site. Here's Gary's story.

I was a very grateful person. God had blessed me with twenty wonderful years of ministry at Highland Park Baptist Church in Southfield, Michigan. God had brought together an amazingly talented group of worship leaders. For the past eight years the choir had sung with the Detroit Symphony Orchestra at least one set of concerts per year, our church orchestra was made up of top quality free-lance players, and gifted and godly people led the more modern elements in worship. It was a church that loved our family, loved me (what grace!), and was a wonderful place to call home.
Then the phone call came to consider leaving and going to a new place. I have always responded with a willingness to pray about such options for a week and God would always lead me to stay at Highland Park. This time it was different. It became clear that God was leading us to become part of the staff at Christ Memorial Church in Holland, Michigan. I had known of the church for about ten years. My brother and I had done concerts there under the soon to retire Minister of Music, John Bright. John had become a mentor and friend, so to follow him would be a humbling call. We began a new ministry there this summer.
Christ Memorial is a great church. What a gift God has given us—to go FROM a great church TO a great church. The church is a member of the Reformed Church in America (RCA), and has a wonderful team of worship leaders. The 200-voice choir has been trained well, and there are full graded choir, handbell and orchestra programs. I've been able to apply much of my learning from IWS in my new place of service. We have three worship services: Classic Worship (using historic expressions of the arts in worship), Convergent (I know, a brand new term for you!) Worship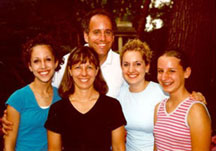 (converging historic, modern and post-modern expressions of art in worship), and a Cross-cultural Worship experience.
God is forming us as worshipers and it is a joy for us to serve the Lord here in Holland. I'm so grateful for my training through the Institute that has allowed me to develop and stretch in order to better lead in worship.
Jodi, Cindy, Gary, Jessica, Jill
Last year Julie Smith (Aleph, M.W.S. 2004) became the Director of Music Ministries at St. John Lutheran Church in Cedar Falls, Iowa. She previously served as Director of Worship and Music at Saint Andrews Chapel in Sanford, Florida.
My training at IWS definitely broadened my understanding of worship and was influential in preparing me for my new position. At IWS I developed the desire to make everything in worship purposeful and intentional.
My new pastor read several of my papers, which influenced his selection of me as the person for the position. I've had opportunities to discuss worship with many in my new community and through these discussions more worship/music leaders are becoming aware of the value of this program. I will be forever grateful for the opportunity I had to be at IWS and hope to continue in the D.W.S. program in the future.
Mark your calendars for another great alumni seminar/post-grad course at
IWS—June 18-20, 2006. Detailed plans are still in the works that will include the great ideas and input received from the attendees at our seminar this past June. We may include a special seminar session on Saturday, June 17 for those interested in coming early and getting more for your money. I'll keep you posted. Let me know if you like this idea.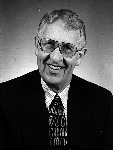 Our guest speaker this year will be Dr. Harold Best, Dean Emeritus of the Wheaton College Conservatory of Music, and author of Music Through the Eyes of Faith, and more recently, Unceasing Worship: Biblical Perspectives on Worship and the Arts.
You are sure to be challenged by Dr. Best's wisdom and wit. I attended several of his sessions at the Calvin College Worship Symposium last January and found his presentations very stimulating. Click here to view Dr. Best's homepage. Check out the detail's on his latest book at Amazon.com.
Registration fee for the seminar is $100.00.
Look for the complete details in the February 2006 edition of Anamnesis. But for goodness sake—mark the dates on your calendar right now!!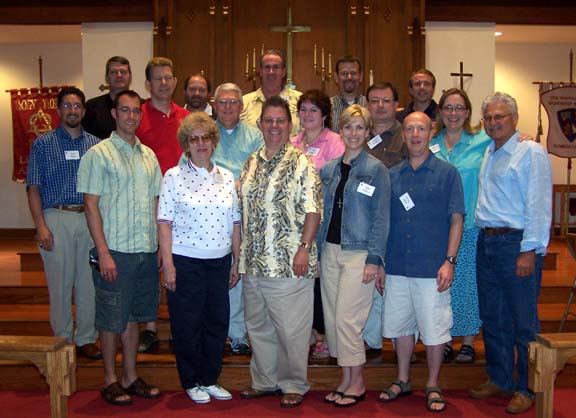 Alumni Seminar Attendees, June 2005