In This Issue
Click to go to the article.
· Ken Rushing is ordained
· Larry Ellis' book on forgiveness
· Seminar for teachers of worship
· Annual Report: a other tools
Simon Chan on the Life of the Holy Spirit in the Church
Simon Chan, our June 2010 seminar speaker, says that bad worship produces bad theology, which leads to an unhealthy church. That's why he suggests in his book Liturgical Theology that churches make more room for the Holy Spirit to work in worship. Read more here.
Book for the January Session
The Biblical Psalms in Christian Worship: A Brief Introduction & Guide to Resources, by John D. Witvliet (Eerdmans, 2007). Click on the title for more information.
Spiritual dieticians
"When it comes to matters of spirituality and faith, we are what we sing. . . . Music has formative power. . . . Pastoral musicians have the important and terrifying priestly task of placing words of sung prayer on people's lips. . . . To be a church musician . . . is to be a spiritual dietician."
(John Witvliet, Worship Seeking Understanding: Windows into Christian Practice, 231-232).
"God breathed into us the breath of life. In our singing, we return that breath to the giver."
(John Witvliet, Worship Seeking Understanding: Windows into Christian Practice, 236).
"What the church needs most are discerning, prayerful, joyous people who treat their work as worship planners and leaders as a holy, pastoral calling."
(John Witvliet, Worship Seeking Understanding: Windows into Christian Practice, 284).
Lester Ruth
on Cyril of Jerusalem (c. 313-386)
"Can a theologian be a good pastor or evangelist? Can an effective, church-growing evangelist be theological? Can a caring pastor preach doctrine in a relevant way? Is it possible for one person to be a dynamic evangelist, pastor, and theologian all at once?"
Are you on Facebook?
The Call to an Ancient Evangelical Future group on Facebook (based on "The Call") has burgeoned to over 900 members in the few short months of its existence. When creating the group, Darrell Harris said, "I envision it becoming a seething hotbed of ancient-future Christian thought, and ancient- future worship, in particular." It seems to be working. If you're on Facebook, check it out.
Alumni Seminar
June 13-15, 2010
Mark your calendar for our June Seminar with Dr. Simon Chan, Earnest Lau Professor of Systematic Theology at Trinity Theological College in Singapore.
Dr. Chan's book, Liturgical Theology: The Church as Worshiping Community, is another must-read for everyone in the IWS community!
View a list of Chan's published works here.
From the Editor: Expanding circle of impact
IWS is making a difference; our students and graduates are carrying the torch and extending the impact of this institution in countless ways.
In our 10th Anniversary Fall Edition, we featured the stories of individual lives and ministries that have been profoundly changed through IWS and Robert Webber. In this edition, we focus on some of the particular work and subsequent fruit that is being produced by the members of the IWS community. Bob Webber's vision is alive; his work is being multiplied. Below you will read about the creative passion driving Jim Altizer to produce online worship resources, new books written by Constance Cherry and Larry Ellis, and Ken Rushing's ordination--the culmination of a "ruinous work" that began in earnest at IWS. God is faithfully shining His story through this dynamic community.
Our January Worship Seminar with John Witvliet is upon us. Registration is going very well, and we anticipate a full session. I hope you can join us! Some of you haven't been back on campus since graduating. It's time. One registrant for the Witvliet seminar wrote, "I am so excited about coming back--I really need an IWS fix!" More seminar info below. Register ASAP!
Hope, peace, love and joy to you this season of Advent,
Kent Walters, D.W.S. (Alpha 2002)
Editor
President's Column: An Advent Message
by Dr. Jim Hart
"We wait for thy loving kindness, O Lord,
in the midst of thy temple" (Psalm 49:8).
This verse is the concluding prayer, or collect, from the

Anglican Advent service, "A Procession with Carols on Advent Sunday."
The form of this service was composed in 1934 by Eric Milner-White, then Dean of King's College, Cambridge. In the preface to that service, he wrote of his concern for
an Advent liturgy that would make "a preparation for the coming of our Lord to this earth far more vivid and eager than those of our present prayer book." He further stated that the purpose of the service was "not to celebrate Christmas, but to expect it."
The ancient liturgical sources on which Milner-White drew did not treat Advent merely as a prelude to Christmas, but as a penitential season which anticipates the fulfillment of God's purpose with the coming of Christ as a past and present reality in His nativity and as a future reality in His parousia (second coming). Both realities are emphasized in this season. Of course we wait expectantly for the celebration of Christmas. But, in truth, we are eagerly waiting and watching for the final restoration of the entire created order.
The message of Advent has been particularly poignant to me this year. I've been waiting and watching for the past two weeks as my wife has been recovering from two knee replacement surgeries. Two realities are clear: nothing can hurry the waiting, but an active vigilance must be kept in the watching.
While we eagerly await his coming, we actively watch for that final hour. In Advent God calls us to enter vigilantly into the incarnational reality of his redemptive work in Christ. As the old spiritual states, "Keep your lamps trimmed and burning; the time is drawing nigh" (Matt. 25:1-13).
The Lord be with you!
by Jim Altizer
So you have the degree; now what? I can remember Bob Webber saying, "Get your degree and then put it to work: get out there and impact the world for Christ." I asked Jim Altizer (Mu, D.W.S. 2008) to share his post-IWS journey. It's another incredible example of the redemptive story of Christ working in and through the members of the unique IWS community.
_____________________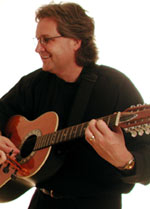 "What are you going to do with your doctorate?" I heard that question a lot. Graduating from IWS was much like graduating from the conservatory. I waited a week for someone to call and beg me to do the thing that makes me feel like a man on fire: teaching worship. When the phone didn't ring, I decided to get busy. My studies at IWS had provoked many questions, such as Lester's: What makes worship Christian? And what makes it worship? I also had many questions from my own study, including: Why should we gather? Culture vs. content; individual vs. corporate vs. lifestyle worship; right vs. wrong worship, etc. These questions provided the impetus to write a philosophy of worship.
IWS was my midlife crisis. It represented a change of passion from being a trumpet player to training the next generation of worship leaders. The doctorate opened the door to some part-time teaching at Azusa Pacific University, and equipped me to write curriculum for a new Graduate Worship Leadership emphasis they were offering. Still, I wanted to influence the contemporary worship scene, which seemed to be the offspring of the Jesus Movement that had birthed my faith.
My mantra was, "I couldn't wait for success; I had to go ahead without it" (Jonathan Winters). I began to develop worship resources for the church. Since I was and am unknown in this arena, and since I was passionate for the next generation, I decided the Internet would be my conduit for delivery. To my shame, the thing that made me hesitate was the difficulty in monetizing a medium where people expect to get something for free. My wife finally asked the illuminating question: "Do you want to influence the church and grow the Kingdom of God, or do you want to make money?" Ouch!
I reduced my teaching and playing load to part-time so that I would have time to write, dream and do. I developed a type of expository worship called "Roadmaps for Worship," designed to nudge evangelicals back toward the pattern of revelation and response. I launched a worship-education website by the same name (RoadmapsForWorship.com), and released an iPhone application so that the guys I was discipling could worship during their commutes to work. At a friend's suggestion, I began writing, filming and distributing short teaching videos to be used by others in worship education, and my wife and I released "Anamnesis," our 7th CD (Hymns redone). I developed a video-practicum to help musician-theologians refine this crazy synergy of skill, knowledge and heart. I've also done some church consulting, and have taught an occasional seminar. Currently, I'm writing a textbook called "The Making of a Worship Leader" which will be an eBook combining philosophy with praxis, and will facilitate linkage to both Scripture and graphics.
Returning to the original question of what I will do with my doctorate: as of this writing, I have made very little money from the above resources (I'm pathetic at marketing), and have never been happier. I am not sure what the next "thing" is, but I believe phones will be central to the dissemination of worship resources. They are quickly becoming people's computer-of-choice, Bible, audio player, textbook, study resource, video library and ministry network. The streaming-audio Internet players currently available will enable people or groups to host their own radio station, be easily monetized, and will expand educational possibilities exponentially, with video players to follow. Education will continue to evolve and decentralize along with the technology that facilitates it.
IWS delivered the goods. The curriculum, faculty and students were worth more than the price of tuition. IWS was a delightfully "ruinous work" in my life, and I'll be forever thankful for the Institute's edge, flavor, freedom, community and vision. I developed lifelong friends/colleagues (a shout-out to the Mu class), and I had a blast doing it. As Auntie Mame says, "Life is a banquet, and most poor suckers are starving to death." IWS truly was a banquet. I am still working on the leftovers and am digging the journey. That's what I'm doing with my doctorate!
The following is an excerpt from Constance Cherry's new book (due early 2010), The Worship Architect: A Blueprint for Designing Culturally Relevant and Biblically Faithful Services (Baker Academic, a division of Baker Publishing Group), 2010.
_____________________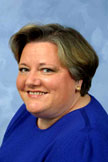 The purpose of the Alternative Response to the Word is to communicate our response to God as a result of having heard and received God's word in worship. It is an acknowledgement that we have truly listened to what God spoke to the community through the Scriptures and the sermon, and that as a result we intend to offer back an appropriate affirmation . . .
Whereas the service of the Word is both informational and formational, the Alternative Response is primarily formational; it provides the ways and means for the internal change to happen through surrender, commitment, confession, etc.1 (This is another reason why omitting the Alternative Response is so devastating—it creates worshipers who have knowledge but have not been challenged to submit promptly to the responsibilities for such knowledge.)
As you examine the types of worship elements listed above, therefore, think about what you may be inviting worshipers to do at the most fundamental level; then use actions such as those mentioned to express the fundamental change. In other words, the action (worship element) itself is not the response; the action portrays the response (much like what happened in Acts 2). Let me offer three categories to explain what I mean. Consider "resound," "resign," or "resolve" as three fundamental types of formational changes possible as a result of hearing the word (and there are others).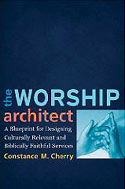 One Alternative Response may invite the congregation to "resound" the Word. The English word "resound" comes from the Latin word resonare, to sound again (re="again"; sonare= "to sound"). To resound is to echo, to be echoed, to be sent back. One possible type of Alternative Response is to give the community the opportunity to echo back—to restate—what they have heard. Perhaps they are challenged to put the message in their own words, sharing with other worshipers what they heard. It could also mean to speak a Creed or affirmation of faith; this is a powerful means for "sending back" the word that has gone forth from the preacher. Certain worship elements are well suited to this and aid worshipers to be formed by re-voicing the truth proclaimed.
Another Alternative Response will give worshipers the ways and means to "resign." The English word "resign" comes from the Latin word resignare, to sign back. We often think of resigning as a negative word. We resign ourselves to this or that because there is no alternative, nothing better which we can do at the moment. But resign is really a positive word. To resign is to re-sign—to see our experience through a new lens and thereby assign it new meaning. To resign is to see things differently as a result of hearing God speak; it is to relinquish a claim, to give up possession of, submit, abandon, abdicate, forsake, renounce, or surrender as a result of hearing the word. The altar call, foot washing, testimonies, certain prayers, etc., help the worshipers to resign when the Word has led them to such a response.
Or perhaps worshipers are called to resolve something as a means of spiritual formation occurring. The English word "resolve" comes from the Latin word resolvare, to loosen again (re="again"; solvere= "to loosen"). To resolve is to loosen up that which binds, to break up into separate constituent elements or parts for the purpose of change, to solve or explain, remove doubt, to determine, intend, to be settled in purpose. Many times the Word leads us to the point of resolution—insights are gained by the Spirit's power, "aha" moments occur, we see things in a new way. For this the congregation will need worship elements that help them celebrate the new insight received, rejoice in the liberation that comes from being loosed, or sing or speak of what they now intend to do.
To fashion a fitting Alternative Response to the Word the worship architect must 1) be immersed in the Scripture(s) and sermon for the day, 2) determine what fundamental type of response is logical, and 3) consider which of the many worship actions available will be helpful in giving worshipers an effective way of expressing the fundamental response. Decide if you are asking worshipers to resound, resign, or resolve. Once that is settled, you will have any number of worship acts which will help worshipers to surrender, rejoice, serve, pledge obedience, give gifts, testify, etc., to help achieve the fundamental response.
---
Used by permission. All rights to
this material are reserved. Material is not to be reproduced, scanned, copied, or distributed in any printed or electronic form without written permission from Baker Publishing Group (
http://www.bakerpublishinggroup.com
).
Response to our first January seminar has been very positive. Several who are unable to take in our June seminars due to ongoing schedule conflicts at that time were quick to register. It is great to see the interest our alumni have in ongoing education and inspiration for the journey. Join us this January--it's not too late to register.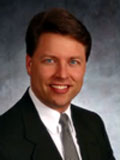 Dates:
January 6-8, 2010
Speaker:
Dr. John Witvliet
Theme:
The Beauty and Glory of the Triune God:
Grounding Worship in the Doctrine of God
The 2-day seminar will take place on Thursday and Friday, but you are encouraged to arrive on Wednesday to enjoy the Presidential Address with Jim Hart at 3:30 p.m. and the Opening Convocation Service at 6:30 p.m. in which Dr. Witvliet will preach.
John Witvliet is Director of the Calvin Institute of Christian Worship and professor at Calvin College and Calvin Theological Seminary (Grand Rapids, MI). He is a gifted author, editor, scholar and visionary whose work at the Calvin Institute of Christian Worship is making a significant global impact on worship. Learn more about John here.
The seminar registration fee is $120.00, excluding meals and lodging. You may register a fellow church staff member or your spouse for half price.
Seminar links:
Schedule and Seminar Description
Register online / Register by mail
Ken Rushing ordained an Anglican priest
The IWS journey has often been described as a "ruinous work" in one's life. Ken Rushing [D.W.S., Alpha 2002] was perhaps the first student in the inaugural IWS class to declare to our founder near the end of our first session, "Bob, you've ruined my life!" Here is his story.
_____________________
It has been said, "God always brings to fruition what He has called to be." I know this is true based on what I read in scripture and what God has done in my life.
I had two degrees in music and had ministered in several churches since 1978. In 1983 I was ordained to the Gospel ministry. During this time, worship intrigued me and even became my passion. After reading several of Bob Webber's books I was drawn to IWS where I was a part of the Alpha Class.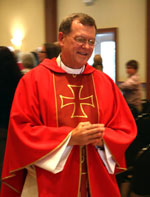 The phrase, "Life is a journey," took on a whole new meaning for me after I began my studies at IWS. As many of you can attest, the in-depth study of worship will change your life. I became increasingly uncomfortable in the church where I served. My attempts to implement elements of worship renewal like the use of symbols, meaningful form, and an idea of the sacred were met with resistance. As I struggled with this, God placed a new call on my life—this time to serve as pastor.
I completed the doctoral program at IWS and resigned the Baptist church I had been serving for the past 10 years, anxious, but knowing that God would provide. But nothing came about. I teamed up with another minister, who was also searching for something more, and started a community church. He soon insisted the worship change from convergent to seeker sensitive. I could not compromise my newly formed worship values, so I resigned—knowing that God would provide.
My family and I attended a Methodist church for about a year before finding a home in an Anglican church in Tampa where we were received with open arms. Soon I was ordained a transitional deacon at the church and on my way to the priesthood. As I studied the tradition and theology of Anglicanism, I was convinced that this was where God wanted me.
An obstacle prevented me from being ordained within that first year. I needed more education. After continued study there were more hurdles. My family worked through the struggle of transferring from a Baptist to Anglican tradition, but I faced challenges in the ordination process. It was a very difficult time, followed by more of God's leading. After much prayer and counsel I resigned.
I continued to study, pray and listen to wise counsel from my spiritual director who continued to encourage me to be faithful and stay the course. He suggested I meet with a different group of Anglicans to seek ordination. I did, but to no avail. I was very discouraged. The thing that really kept me going was the knowledge that God had called me. Maybe I wasn't in the right place yet, but God called me and He would see me through. I knew that. So, I pressed on. My spiritual director never gave up either. He told me of an Anglican group in Texas that had a wonderful, godly bishop. I traveled to Texas to meet him and found a man that loved God with his whole heart. We visited all weekend and I flew back to Florida with renewed hope. On November 7, 2009 I was ordained to the priesthood.
After struggling on this journey to the priesthood for seven years, God finally brought it to completion. Each step along the way taught me valuable lessons that have shaped and molded me into what God wants me to be. I wait with eagerness to see all that God has in store for me and my family as we serve Him. He who calls us is faithful to complete it.
"Having confidence of this very thing,
that he who has begun in you a good work
will complete it unto Jesus Christ's day" (Philippians 1:6).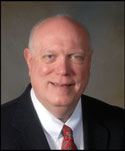 Larry Ellis (D.W.S., Nu 2008; M.W.S., Beth 2005) admits that forgiveness was something he believed in but was not well equipped to practice. In his book, Forgiveness: Unleashing a Transformational Process, he writes, "As I grew up, my parents and grandparents, school teachers, and the church taught me the importance of forgiveness. Surprisingly, I don't recall ever having someone talk to me about how to forgive someone. . . . Forgiveness was my explicit theology but not my implicit practice." Larry addresses this all-to-common malady in what could be called a how-to manual with heart. Particularly insightful are the chapters on forgiveness as an act of worship, and the thirteen popular myths about forgiveness. The book includes an eight-week study guide to facilitate group interaction and personal application. Jerry Borchert wrote the foreword, and Chris Diffenderfer (D.W.S., Mu 2008) crafted the cover design and book layout. Here's the Amazon.com link.
Lester Ruth (click on the thumbnail picture for a larger version) will teach a three-week seminar as part of Calvin College's Seminars in Christian Worship next summer: Case Studies from the History of Worship: Prospects for Research & Pedagogy in a Variety of Theological Disciplines, June 28-July 16, 2010.

The seminar will focus on the development and pedagogical use of case studies from the history of Christian worship, and will explore how these case studies could be used in teaching courses in worship or the history of Christianity, especially, as well as in theology and religious studies more broadly. Those who are curious and creative about approaches to teaching and have responsibility for teaching worship-related classes or could use worship as a way to teach related subjects are encouraged to apply.
For more information about Lester's seminar as well as application details, click here. The application deadline is January 15, 2010.
A word about giving and bequests
by Dr. Jim Hart
As we move through the final month of 2009, please remember the work and mission of IWS in your giving. Your participation at any level is vital and appreciated.
Checks should be made out to IWS, noted "Annual Fund" and/or "Scholarship Fund" and sent to IWS, 151 Kingsley Ave., Orange Park, FL 32073. Tax deductible donations may also be made on our website through secure online giving options (http://iwsfla.org/IWS/fla_contributions.html). Gifts may be designated in memory or honor of a loved one, and/or may be anonymous.
Donations of appreciated assets, such as marketable securities, can be particularly beneficial to you and IWS. You can maintain your current cash assets, while reducing your tax liabilities. Call the IWS office for more information (1.800.282.2977).
Last month IWS received notice of our first official bequest from an alumnus. A bequest can create a legacy which generously provides for the future of IWS and demonstrates love and support for the advancement of our mission. The inclusion of the Robert E. Webber Institute for Worship Studies in estate planning assures that your gift will have enduring influence and impact.
If you are interested in a bequest, your attorney will need to revise your will or include a codicil to be sure the bequest is left to IWS. A copy of the bequest provision or codicil will need to be sent to IWS for our files. Those making a bequest will be invited to become a member of our Legacy Circle.
A bequest is a wonderful way to show a significant and long-lasting commitment to the mission of worship renewal. For more information, please contact the IWS office.
Your support of the ongoing mission of IWS is absolutely critical to the work of real spiritual transformation through worship. Thank you for your partnership with IWS.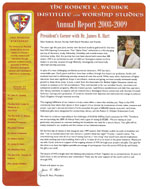 First, have you read the 2008-2009 Annual Report? Click on the link below for an enjoyable read that includes letters from Jack Van Marion (professor), Yilee Chen Lo (student), and Dinelle Frankland (graduate), and an interesting glance at "The Year that Was."
Now, you are encouraged to forward the Annual Report to interested friends and potential students. It is a great tool for spreading the word about this incredible community and unique course of studies in worship.
You may also forward this newsletter. Click on the easy "Forward this email to a friend" link at the bottom of the email, or copy the link below.
And when is the last time you forwarded the Webber Quote of the Week to a friend? Use the links below. Expand the circle of influence!
Annual Report link:
http://www.iwsfla.org/Report/Annual_Report_08_09.pdf
Anamnesis link:
http://alumni.iws.edu/newsletters/current.html
Webber Quote of the Week link:
http://alumni.iws.edu/Webber_quote.htm
© 2009 The Robert E. Webber Institute for Worship Studies