In This Issue
Click to go to the article.
NEW alumni mentoring opportunity
Be a class mentor for one session; participate in on-campus classes and worship; earn CEUs; help strengthen the sense of community among students and alumni. Sound interesting? Read more.
Convocation Sermon by
Dan Lee
W. Dan Lee preached the convocation sermon in June entitled: When I'm Left Alone. Click here to download the audio file (29:54).
Updated Theses Lists
Our D.W.S. theses lists are a great resource for personal study and tool for research. They have been recently updated to include the titles and abstracts of our 2008 grads. Two lists are available on the website: an alphabetical list that is in a searchable PDF format, and a chronological list by year.
Essential prayer
As is our custom, following the Town and Gown meeting in June, the faculty encircled and prayed for the students. Then the students laid hands on and prayed for the faculty. Thank God for this community of faith, love and mutual encouragement. Click on the thumbnail picture below taken by Alan Cooper.
Don Saliers on three factors that prevent participation in worship:
(1) When worship is done for us;
(2) when worship is done to us;
(3) when we don't understand what is going on. (Worship Come to Its Senses, 73).
Keeping community
Please share your personal news with the IWS community. Send me an email with a few details about your life, family, ministry.
AEF 2008 Conference
On the Church:
The Continuation of God's Narrative
October 9-11
Northern Seminary, Lombard, IL
Intro letter from David Neff of the AEF Center.
Click here for more details.
Robert Webber's published works
Click here to view a list of Bob's many published works.
10th Anniversary Alumni Seminars
June 13-16, 2009
Seminar with Phyllis Tickle, founding Religion Editor of Publishers Weekly, authority on religion in America, and author of the Divine Hours series on fixed-hour prayer.
January 6-8, 2010
Seminar with Dr. John Witvliet, Director of the Calvin Institute of Christian Worship, and Professor of Music and Worship at Calvin College and Calvin Seminary in Grand Rapids, MI
Have you marked these dates yet? Tell your pastor/worship pastor about the half price deal when they come with you!

From the Editor: 10th Anniversary Year
2009-2010 will mark the 10th anniversary of IWS!
I can still remember the overwhelming presence of the Lord that filled the sanctuary at Grace Episcopal Church during the first Opening Convocation Service on June 9, 1999. There were 20 of us "Alphas" who were privileged to be the first class on the ground floor of this visionary endeavor. Following commencement next June we will have over 10 times that number of graduates!
God has worked in amazing ways through IWS over the past decade, not the least of which is renewal ("ruinous blessing") in our individual lives and ministries, and we want to acknowledge that. Three major events are being planned through which we will commemorate God's blessings and celebrate the unique community that is IWS.
Two IWS seminars for alumni and friends with outstanding speakers:
June 13-16, 2009 featuring Phyllis Tickle
January 6-8, 2010 featuring Dr. John Witvliet
AND--a 10-day Holy Land Trip/Seminar led by veteran tour host and teacher Jerry Borchert in February 2010.
So, first pause and give thanks to the Lord for IWS, then page down to read more details about these exciting events.
Give thanks to the LORD, for he is good;
his love endures forever (Psalm 107:1 NIV).
Kent Walters, D.W.S. (Alpha, 2002)
Editor
From the President:
On Ancient Future Worship
by Jim Hart
I would like to start a conversation with you, and I would like to begin with two questions. First, does the institutional church

resemble the church our Lord established? This question has great implications for the way we think about and approach biblical worship. Second, how do we begin to think and act missionally as worship leaders? I include musicians, artists, pastors, theologians, homileticians, teachers, in fact, all church leaders in the worship leader category. In other words, how do we participate in the mission of God without losing our livelihoods? [read more . . .]
Download the audio of Jim's Presidential Address on this topic from the June Session (25:03) (11.46 MB).
Enter this conversation with Jim and one another on the Message Board Forum.
by W. Dan Lee
As a litigation lawyer, I have a complicated case in which I am representing 14 plaintiffs against the owners of a commercial property. The property in question is an indoor-fleet mall ("Mall") in Chicago and its

patrons are predominantly Hispanics. My clients were tenants of the Mall and are either Hispanic or Korean with a significant language barrier, whereas the defendants are sophisticated business people armed with a number of lawyers. For each court appearance and hearing, my full devotion and attention is required, not because of its complexity but because of my awareness of each client's predicament. The Mall was shut down for 18 months because of severe building safety and health code violations. The defendants told the plaintiffs that the Mall was closed temporarily for repairs, notwithstanding the city's order not to open it until it was brought to safety requirements under the city's building code. My clients were led to believe that the Mall would be reopened soon, and the "soon" promise became 18 months. During those 18 months the owners of the Mall kept the value of their property by keeping my clients as tenants, whereas my clients had no income for that period. Some went through divorce, bankruptcy, or relocated for new business.
No matter how I am involved in this case emotionally, I can still detach myself from the case. No matter how sorry I am about each client's life circumstances, I am still far removed from their reality. After all, being a lawyer means practicing law. It is simply my profession. Profession requires education, skills, and experiences. I went to school, passed my bar, and got my experience in litigation. This is how I became professional, and I get compensated for my legal services.
Unlike any other profession, ministry requires three elements: (1) a conviction of God's calling; (2) a passion for God's Kingdom; and (3) a compassion for God's people. Without the conviction of God's calling, ministry becomes performance. Absent our passion for God's kingdom, ministry is simply to accomplish goals and objectives. Our compassion for people becomes a driving force to make a difference in their life as well as our own life. The people we are called to serve cannot be another client. For each and every one of them, Christ died, Christ is risen, and Christ will come again. This is our mission, our profession, and our calling.

Well done, graduates! Welcome, new alumni!
37 graduates (23 DWS and 14 MWS) were conferred degrees on June 15 in our eighth annual Commencement Service (Commencement Bulletin / Graduates Insert). They are the latest credentialed offspring of Bob Webber's vision, the newest complement of servant leaders in

worship renewal.
The membership of our Alumni Association now totals 198 (146 DWS, 9 AGCWS, 43 MWS).
Our Graduates Pictorial Directory may be accessed here. Alums, you are invited to send a new picture for the

directory and to update your personal profile. Click on
your picture to access your profile. Contact me if you
have questions.
Click on the thumbnail pictures at the right to see the full size versions. The one at the bottom shows members of

the Nu class celebrating their graduation in June at Clark's Fish Camp. They reserved a room and enjoyed the company of 38 family and friends.
The following links lead to more pictures:
Dr. Don Saliers delivered a moving Commencement sermon entitled, "Where Do We Go?" Download the sermon (14:14).
Kyle Brenneman, a recent worship leadership graduate from Huntington University in Huntington, Indiana was given the first IWS Award of Distinction in Christian Worship, which includes a $1,000 scholarship to continue his studies at IWS. Kyle earned the award for the quality of his scholarship, leadership and diligence. The scholarship is renewable each semester. To be eligible for the award, recipients must have a minimum grade point average of 3.5.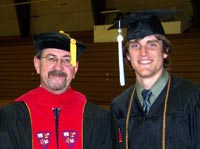 Kyle (pictured on the right) is from Spencerville, Ohio. He served as a senator-at-large on Huntington University's Student Senate his sophomore year, and he was the student body vice president during his junior year. As a senior, he completed a seven-month internship at Appleton Alliance Church in Appleton, Wisconsin.
"Kyle Brenneman has been an exceptional leader, scholar and servant," said Bob Myers, Assistant Professor of Worship Leadership at Huntington (D.W.S., 2007, pictured above with Kyle). "Kyle has been a big help to me as we have launched the worship leadership major. I have often looked to him for trustworthy input and feedback concerning the program. I am confident that he will be greatly used for God's Kingdom."
For more information about IWS's Award of Distinction in Christian Worship and how students at your institution may qualify, contact Jim Hart.
Dr. Don Saliers led a memorable 2-day seminar during the June Session in which he challenged our thinking and fed our souls with fresh perspective on worship theology and practice today. He also served up generous helpings of spiritual inspiration for ministry, along with numerous musical and liturgical resources for the 20 alumni and guests who attended.
The Alumni Event began with a catered lunch where alumni and faculty were able to interact and catch up. President Jim Hart gave an update on IWS and Chaplain Darrell Harris encouraged us with a short devotional on Jesus' words, "Fear not, little flock, for it is your Father's good pleasure to give you the kingdom" (Luke 12:32). We then viewed and discussed the video of Jim Hart's Presidential Address, "Ancient Future Worship" (audio file; outline handout).
Don't miss the Alumni Event 2008 picture gallery.
Audio files from the alumni seminar are available for downloading on our website along with supplemental resources and handouts.
? ? ?
Here are a couple reflections from participants at the event:
Bill Eichorn, D.W.S. (Alpha, 2002)
Minister of Music and the Arts,
St. Bartholomew's Episcopal Church, San Diego, CA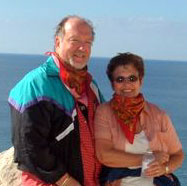 "Waiting six years to be able to attend an alumni seminar is too long! But I finally got it scheduled this year. I highly recommend it to everyone. It was very stimulating for the brain and a wonderful way to get to know other alums from other classes. There were very good conversations both in class and out. The whole package is worth the effort and time - meals, worship, classes, renewal, graduation, practicum and remembrances. Missed our Bob in person but felt his presence at the table."
Bob Myers, D.W.S. (Theta, 2007)
Assistant Professor of Worship Leadership
Huntington University, Huntington, IN
"IWS is in my blood. The alumni seminar has become my annual transfusion. I've attended for the last three years and have always been blessed by the fellowship of deep friendships, the Institute's unique brand of corporate worship (singing the Lord's Prayer again is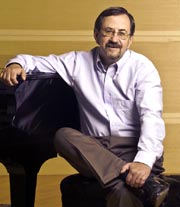 worth the price of airline tickets alone!) and, of course, the rich feast of dialogue and teaching that we share with our seminar instructor and participants."
"This year's seminar was no exception. Our sessions together were enriched by Don Saliers' deep spirituality and extensive experience across the denominational spectrum. I gained new understanding of worship through the senses and I especially appreciated his helpful framework for worship health and renewal in the local congregation. I will use his insights both in the classes that I teach and in the local church where I serve."
Make plans now to attend the 10th Anniversary Alumni Seminars:
June 13-16, 2009 featuring Phyllis Tickle
January 6-8, 2010 featuring Dr. John Witvliet
Read below for more details!
I am excited to announce TWO alumni and friends seminars as part of our 10th anniversary celebration--one during the June Session of 2009 and one during the January Session of 2010. And get this: you may bring your pastor or worship pastor/director to these seminars for half price on the registration!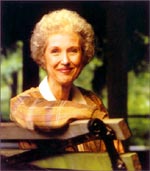 In June we will welcome an inspirational and devoted woman--Phyllis Tickle. Seasoned in the practice of prayer, Phyllis compiled the Divine Hours series to guide believers in praying the daily offices. She is the founding Religion Editor of Publishers Weekly, a recognized authority on religion in America and a skillful discerner of our times. Her latest book, The Great Emergence: How Christianity Is Changing and Why (forthcoming in October 2008), addresses the current transitional time in the church in light of observable patterns in church history. Phyllis is an energetic and engaging speaker. I recently heard her at Mars Hill in Grand Rapids (mp3). So, mark the dates: June 13-16, 2009 and let's celebrate God's goodness together in Orange Park!
If June doesn't work for you, perhaps Florida in January will be just right! Dr. John Witvliet will be the speaker for our first January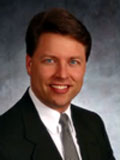 Session Seminar. John is the Director of the Calvin Institute of Christian Worship, and Professor of Music and Worship at Calvin College and Calvin Seminary in Grand Rapids, MI. The CICW is doing an incredible work. For a taste, see their resources webpage. John writes with wisdom and depth on worship, music and related issues, and is on the cutting edge of worship renewal in the church around the world. His latest book is The Biblical Psalms in Christian Worship: A Brief Introduction and Guide to Resources. The dates for this memorable event are January 6-8, 2010.
Our third BIG 10th Anniversary event has been on the planning table for over a year--a 10-day Holy Land Tour/Seminar with Jerry Borchert. Jerry has been leading tours and teaching on the biblical, historical and archeological significance of the tour stops for many years. He really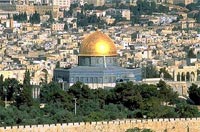 desires to share this experience with the IWS community. At this point we are earmarking the trip for February 2010. Once sufficient interest has been determined we will solidify the dates and details. Click here to see a sample brochure of a comparable trip. Please contact Kent Walters as soon as possible to express your interest in being a part of this IWS trip. Space is limited to the first responders.
Jim Dodge, D.W.S. (Nu, 2008)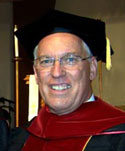 Jim presented a workshop in July at the annual gathering of the North America Association for the Catechumenate at the Dumas Center south of Seattle: "Stirring the Waters: Catechizing Catechumen for Christmas Baptism during the Season of Advent." He recently accepted an appointment to the board of directors of The Liturgical Conference, and contributed lectionary reflections on Epiphany 4 & 6, Year B that will appear in the winter edition of Homily Service, one of the conference's two journals.
Don Fugate, D.W.S. (Delta, 2004)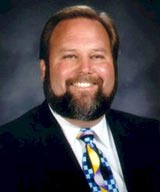 Foxworthy Baptist Church in San Jose, California honored Don and his wife, Diann for 25 years of faithful ministry to the church on Sunday, April 27 with a ceremony and reception. Don served for 24 years as Associate Pastor and accepted the call to be Senior Pastor in September 2007.
Bob George, D.W.S. (Theta, 2007)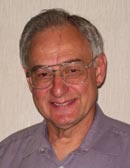 Bob is the pastor at the United Methodist Church in Smethport, PA. He recently designed and taught a continuing education course for eight area United Methodist pastors entitled, The Dynamics of Worship.
The group met four consecutive Wednesdays in April and May for four hours (2 hours in the morning and 2 hours in the afternoon) at Olmstead Manor, a retreat center in Ludlow, PA. They discussed the challenges that impact worship (attending worship, worshiping, participation in worship and worship as a way of life), examined 4-fold worship flow and its application in the churches of the attendees, and studied what happens in worship (the Creator is enthroned, connections occur, lives are changed and world views are built).
Susan Huckaby, D.W.S. (Iota, 2006)
Susan is Director of Worship and Discipleship Ministries for Brentwood UMC's new campus in Spring Hill, TN. She also teaches at Williamson Christian College in Franklin, TN. I asked Susan about the church plant and the college courses she teaches.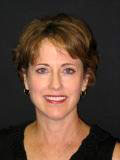 We are currently having weekly Bible Studies on Tuesday nights and Thursday mornings and meeting in a school cafeteria and member's home. Building community is a main focus for now. The richest blessings so far have been the relationships God has brought about. We hope to begin weekly worship services this fall. The classes at the college are part of a Leadership in Ministry degree program with a worship and music leadership emphasis. The onsite courses I teach in this two-year program are The Essentials of Music, Worship in the Old Testament, Worship from the Early Christian Church to the Present, The Theology of Worship, Worship Leadership and Music Ministry in the Church, The Heart of the Artist. I also oversee the student's internships in area churches, and teach several of these as online courses through the Consortium of Online Christian Colleges. I will probably use Bob's new book on ancient-future worship in future classes. Bob was God's mouthpiece in so many ways and to so many people. Personally, he gave me courage to attempt things for God that I had not even dreamed of doing. I am reminded of the ruinous blessing—the holy discontent—that IWS wrought in me and in so many of my Iota classmates. I can almost hear Bob saying, "Well, what are you going to do about it?" I miss him.
David Pannabecker, D.W.S. (Theta, 2007) and


Jim Smith, D.W.S. (Epsilon, 2007)
David and Jim recently co-taught a seven-week course, Music and Worship, at Bethel College, Indiana, which was an overview of the historical, cultural, and theological foundations of Christian worship with an application to a contemporary worship setting. The class was a non-traditional adult class that met in the evening. The students had to evaluate three worship services in

traditions outside their own, as well as write a paper outlining their philosophy of worship. The course concluded with a practicum in which the class presented a chapel service for the entire school.
David also taught a January Term course, The Theology

of Baptism, at Huntington University. His class combined with a J-Term class (Emergent Worship) taught by Bob Myers (D.W.S., Theta 2007) to present a service for the student body. The combined classes are pictured in the bottom thumbnail at the right.
Daniel Jackson, D.W.S. (Eta, 2005)
We extend hearty congratulations to Dan Jackson who was granted full professorship with tenure at Point Loma Nazarene University, San Diego, CA, in March 2008. This is a significant accomplishment! I asked Dan to write a brief summary of his journey to this landmark.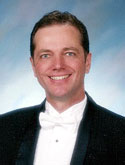 After a career of 22 years in public education, I was approached by several state and private universities about possible employment at their institutions. God had blessed my work as a choir conductor at Mt. Whitney High School, in Visalia CA. by allowing my students the opportunities to be featured at numerous ACDA and MENC National Conventions where thousands of choral conductors heard my choirs. Consequently, universities asked me if I was interested in teaching students in higher education. One thing led to another and Point Loma Nazarene University, which is an institution in San Diego that is rated in the top academic tier of Christian Universities, extended a full-time position to me in 2002 where I would conduct a couple of choirs and head-up the music ministry department. The university required that I work on a terminal degree. The chair of the music department and Provost were impressed with Robert Webber and suggested that I pursue a doctorate at IWS. I immediately enrolled in IWS which was quite a change in education endeavors since my BA was in Music Education and MA in Choral Conducting. I was a part-time music minister for 25 years and had extensive experience in the musical aspect of church ministry, but very little theological training. For me, IWS was a perfect doctoral program to help me with my teaching responsibilities at PLNU. Visiting accreditation teams with NASM (National Association of Schools of Music) that have come to PLNU have been impressed that I received a doctorate at IWS and the university recently granted me full-professor status with tenure. My time at IWS was positive with caring and competent professors who were interested in my career path and how IWS could assist.
Merril Smoak, D.W.S. (Alpha, 2002)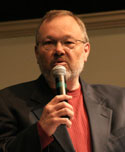 On Sunday, May 25 Merril was recognized for 30 years of ministry at Trinity Baptist Church in Livermore, CA. where he serves as Associate Pastor, Music & Worship. Merril is a recognized collector of early American hymnbooks and hymnological reference materials. His article "The Language of Jesus Lover of My Soul: Charles Wesley's Phrase at the End of the 20th Century" will be published in the summer issue of THE HYMN, the academic journal of The Hymn Society of America and Canada. Three of his articles on worship have recently been published in LifeWay's LET'S WORSHIP magazine. LifeWay has also recently contracted him to write a series of worship articles on the church year. Since 2005 he has been serving as the Dean of the Jubilee College of Music at Olivet University in San Francisco.
New Website Resources
We increasingly hear from visitors to the IWS website who have discovered the resources and are grateful for the easy and free access to the valuable tools for personal growth and ministry that are available.
Several new resources that were generated during the June Session have been recently published on the website. Take advantage of these "sword-sharpening" tools. Here is a list of several of the newest links on our site:
Ancient Future Worship (Jim Hart, Presidential Address, June '08, 25:03)
Here's Looking at You, Kid (Vern Sanders, Guest Lecture, June '08, 38:18)
When I'm Left Alone (Dan Lee, Convocation Sermon, June '08, 29:54)
Where Do We Go? (Don Saliers, Commencement Sermon, June '08, 14:14)
Chapel Series: Ancient Future Worship (audio, Darrell Harris, June '08)
Alumni Seminar Sessions (audio and resources, Don Saliers, June '08)
"The Seven Deadly Sins" (audio series by Carla Waterman, March '08)
Worship bulletins from the June 2008 session
The Published Works of Robert E. Webber: A Partial Listing by Category
Psalm 46 Chant (Chapel Worship, Jan. 2008)
Robert Webber. Who Gets to Narrate the World?: Contending for the Christian Story in an Age of Rivals. IVP Books, (May 30, 2008).
Scot McKnight (Jesus Creed): Who Will Tell the Story?
World Magazine (June 14, 2008 edition):
Robert Webber's Who Gets to Narrate the World? Contending for the Christian Story in an Age of Rivals faces squarely the competition the Gospels face. He traces how in a pagan, Roman world of swirling stories the biblical narrative of God entering the world's suffering to defeat death took hold of the imaginations of millions. The idea that God was in touch with the earthly sphere of life, and that the Incarnation rendered all of creation holy and broke down the distinction between sacred and secular, eventually changed all of Western civilization. Who Gets to Narrate the World? is Webber's last book—he wrote dozens before dying of pancreatic cancer last year—and is a superlative note on which to leave this life. He pushes Christians to repent of cultural accommodation in the face of secularism and Islam: Christians, he argues, should proclaim the claims of Christ not by emphasizing moralism but by absorbing the biblical narrative of redemption, and then teaching it to others through both word and deed. — Marvin Olasky
Bob's books are available at a discounted rate through ancientfutureworship.com. For fast service you may call Sheryl Watkins at 630-510-8905.
by Karen Carpenter, D.W.S. (Delta, 2006)
Chair, Annual Fund Campaign

We are so happy to announce that we have exceeded our goal for the 2007-2008 Annual Fund for IWS. The goal was $75,000 and the final number reached is $76,886. A key part of this success was the matching gift of $20,000 donated by a private foundation, and of course the faithful contributions of IWS alumni, board, faculty, staff, students and friends. Your generosity is greatly appreciated.
The Annual Fund contributes significantly towards the operating expenses of the Institute and is extremely important to the future of IWS. The continued success of the Institute depends largely on our ability to sustain and grow this Annual Fund as the foundation of our development efforts.
Please keep the Institute in your prayers and giving plans. If you have any questions or would like additional information, do not hesitate to contact me or Dr. Jim Hart. We are grateful to God for his continued blessings.
© 2008 The Robert E. Webber Institute for Worship Studies