In This Issue
Click to go to the article.
· Congratulations 2007 grads!
· Alumni Event 2007 Reflections
· New resources on the Web site
· Alumni landmarks and transitions
Remembering Bob Webber
A memorial service was held during the June Session of IWS. The service was planned by Bob, as were the services that were held in Michigan and Chicago. The video of the service is being edited and hopefully will soon be posted on the Web site. Several audio clips and a copy of the service bulletin are available. Click here.
Bob's last two sermons
Remember the inspiration and passion that stirred and motivated you when you heard Bob speak? He was clearly at his best in the last sermons he delivered. They were preached on Sunday, August 13, 2006 at Bethany Beach Chapel near Bob and Joanne's summer home in Michigan: Who Gets to Narrate the World? (36:24), and Sunday, September 10, 2006 at Harbert Community Church, their home church in Michigan: Worship Does God's Story (36:06). Click the titles and download the files today.
In sympathy
The IWS community extends our prayer and sympathy to Jim Hart at the death of his father, George, on June 29. Click here for more details.
Listening to the Beliefs of Emerging Churches
If you haven't heard the faculty panel discussion on Bob's book from the recent June Session, click here. And, if you haven't picked up a copy of the book, click here for more details.
D.W.S. thesis library
As many of you know, I have been posting your thesis abstracts on the Web site to assist those doing research. Our next goal is to publish entire theses online to further assist in research and greatly expand our Web resources, which is an important endeavor for a web-based, cutting-edge institute like IWS. Monica Lopez, our new librarian, is currently exploring this possibility. You will be contacted as this progresses.
Many of you have submitted your thesis abstract for publication on the site. Check out the thesis lists and see if your abstract is there. IF NOT, simply copy and paste it into the body of an email and send it to me today.
New book
Mark Torgerson (IWS bibliographer) has written a timely book on sacred space that has recently been published: An Architecture of Immanence: Architecture for Worship and Ministry Today (Eerdmans, 2007). Click here for more information.
Listen to Mark's presentation on the topic: Embracing Our Inheritance: Appreciating and Maximizing Our Worship Environments.


June Session Pictures
Click here to view pictures from the recent June Session and Alumni Event 2007. And, click here to see graduation 2007 pictures.

IWS Mission Statement
The Institute for Worship Studies forms servant leaders in Christian worship renewal and education through graduate academic praxis, grounded in biblical, historical, theological, cultural and missiological reflection in community.
Hear Jim's overview of the Statement(5:11).
Read a related document by Eric Bolger: The Missional Theology of IWS: a Working Description.
This Issue: the Seasons of Life
The seasons of life are incredible gifts from God.
Each season brings CHANGE--sometimes joyfully anticipated, sometimes fearfully dreaded. But since the seasons of life are God's good gift to the fruit-bearing plants in His garden, our hungry souls trustingly reach through the branches of our being to absorb the life-giving benefits of each cycle of life bestowed by the hand of our wise Creator.
The IWS family is walking through the life-changing season of death and renewal: the death of our founder, mentor and friend--Bob Webber, and the renewal of his life by way of legacy in and through us and the institute to which he gave birth.
May we be inspired to "lean into the wind" (to quote Darrell Harris) during this season of grieving and rebirth, and thereby gain strength and resolve to proliferate the principles and delights of worship renewal inspired by our leader that have decisively transformed ("ruined") our lives and ministries.
Seasons help us reflect and dream. Seasons help us work and rest. Seasons help image bearers become what they were created to be.
May the theme of the seasons of life inform your reading and reflection through this issue of Anamnesis.
"Remember your leaders, who spoke the word of God to you.
Consider the outcome of their way of life
and imitate their faith" (Heb. 13:7 NIV).
In his final days Bob said that his legacy would reside in his books and IWS. He poured his life into both, and both are expressions of his person and passions.
It is not surprising that through Bob's last healthy days he continued to write as long as he had strength, completing two books just a month before his death and starting yet another.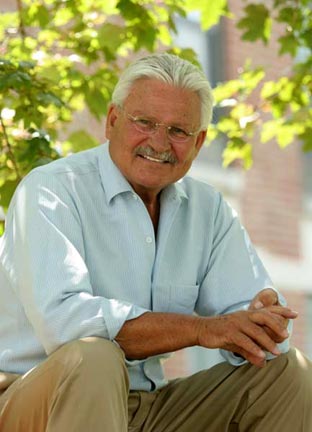 Nor is it surprising that Bob would bequeath his personal library of over 3000 volumes along with numerous other resources to IWS, where his vision of learning and doing worship theology in community is lived out.
We quickly acknowledge that we are not to follow or idolize a person--other than the God-man, Jesus Christ. Bob would say a hearty "Amen" to that. We are, however, to remember and imitate the faith of those who have spoken and lived out God's word before us (Heb. 13:7). God has used this man to show us the Savior and to inspire us in profound, life-changing ways.
So, how do we rightly remember Bob and extend his legacy? Let me suggest two ways.
First, we give praise and thanks to God for Bob's life and influence. Bob is a gift to the Church, and he remains so for each of us who continue to receive and apply the wisdom he taught and lived.
Second, we commit ourselves to perpetuating his life and teachings, which have so powerfully impacted us and our ministries. You know how you can best do this, but here are a few examples: rekindle your commitment to worship renewal in your sphere of influence (semper reformanda); use Bob's books as gifts, and recommend them to others; send the mp3 link to the audio files of Bob's talks by email to interested friends; recruit students to IWS who can, in turn, exponentially expand the circle.
IWS was born as Bob pursued his vision for a unique, one-of-a-kind (though now imitated) worship institute. His personal contacts attracted students more than anything. No longer will someone meet Bob at one of his seminars or receive a call from him encouraging them to attend IWS.
Bob's legacy through IWS is now in our hands. And, thanks be to God, there is evidence that the baton is successfully being passed. Andy Hill and Lester Ruth routinely poll the incoming DWS students to learn how they heard of and came to IWS. The greatest draw has always been personal contact with Bob. However, the numbers now indicate that more students are coming as a result of personal contact with Bob's disciples. (Sounds like a biblical pattern, doesn't it?). More students in the new Rho class this June came as a result of personal conversation with and recommendation by an IWS alum than did those who had personal contact with Bob. The legacy lives!
Bob Webber will continue to influence lives and inspire worship renewal in countless venues. The impact will come through the books and school that bear his name and are being so powerfully used by the Lord.
Jim Hart's Presidential Inauguration
The installation ceremony for President Jim Hart occurred during the June 2007 Commencement Service. Dr. John Lindsell, Chairman of the Board of Trustees, led the ceremony, which included a blessing that Bob Webber wrote for Jim on March 24, 2007 and asked that it be used in
this service.
Click here to read the Words of Installation, the Blessing, and Jim's Acceptance.
Forty graduates joined the happy ranks of the Alumni Association during the sixth IWS Commencement Service on Sunday, June 17 (31 DWS, 8 MWS and 1 AGCWS). There are now 161 IWS alumni serving the Lord around the world! Bob's legacy continues to expand.
Click on the following links:
The fourth annual gathering of the IWS alumni in Orange Park, June 16-19, was a memorable event. From the Memorial Service for Bob Webber, to the alumni lunch on the massive and historic table in the narthex of Grace Episcopal Church, to the stimulating sessions with Brian McLaren, to the final chapel service led by Darrell Harris, we experienced the presence of the Lord and the joy of renewing personal relationships with fellow IWSers. Click here to see pictures from Alumni Event 2007.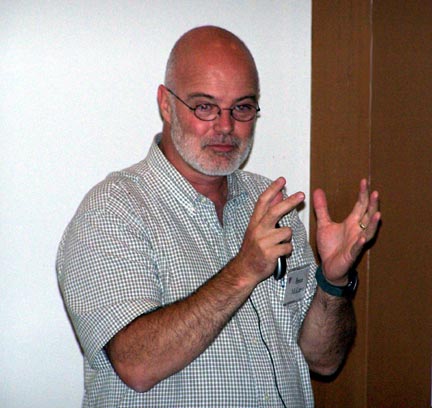 Brian's sessions were inspirational, to say the least. But quite frankly, Brian addressed issues and attitudes in a loving and genuine way that exposed and shook the paradigms that define the way we live and serve. The audio files of all the sessions along with several supporting resources are available to you on the Web site. Please utilize these valuable tools. You, and those you serve, will be glad you did.
After reading, meeting and hearing Brian McLaren, I am beginning to understand why Bob Webber thought so highly of him and his work.
Special thanks to Dale and Nancy for offering their reflections on the event. Read on:
Dale Dirksen, DWS (Gamma, 2003)
Associate Professor, Briercrest Seminary, Saskatchewan, Canada
This was my first IWS alumni gathering and class since graduation. It was great to be in Orange Park again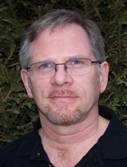 and to reconnect with fellow students as well as to meet new friends. Brian McLaren's seminars were helpful, instructive and inspiring. I found the session around the "rituals of gathered worship" to be especially valuable. It seems that Brian's overarching message in this session was to see community of faith as something related to discipline and perseverance. This was a welcome message in an era where participation in community of faith seems more related to personal preference. In a related discussion, Brian suggested that when community of faith gathers, we "expose apprentices to masters in prayer, teaching, artistry, faithfulness, service, hospitality, etc." Seeing church in the context of apprentice/master relationships is something I found intriguing and have already introduced in my own faith community. Another helpful discussion was related to the idea of "practice." Brian suggested this definition of practice: "Actions within our power which we do to train ourselves to do things currently beyond our power, and to become people we are currently incapable of being." I felt personally challenged to pursue this kind of practice. I am glad I was able to participate in this session as well as attend Bob's memorial service.
Nancy Nethercott, DWS (Iota, 2006)
Missionary to Japan with TEAM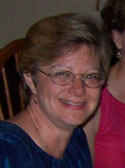 This being my first IWS alumni seminar I headed to Florida with anticipation mingled with curiosity. I was thrilled to see many faces I had seen in the past 4 years and many other new ones as we gathered for food, fellowship, fun, and food-for-thought from Brian McLaren.
Brian's willingness to let us ask questions right from the start, as well as his clear statements of his beliefs and thoughts on hard issues, was impressive. While it was important for all of us to hear his heart on "evangelical social justice", I greatly appreciated the 10 rituals to intentionally incorporate into our times of public worship to make those times opportunities for spiritual formation. (Open a PDF file of Brian's PowerPoint presentation for more details).
Lord willing, I'll attend another alumni seminar in the future!
Editor's note: Look for a feature article on Nancy and the ministry that she and her husband, Paul, have in Japan in the next edition of Anamnesis.
Our online resources always expand after each IWS session to include pictures, audio files and related resources that allow you to keep up to date with on-campus activities as well as be stimulated to grow. Go to the alumni Web site and browse the resources and pictures pages.
As always, please feel free to send me your pictures and resource ideas.
By the way, a new look is soon coming to the IWS Web sites. Our new banner concept (see below) was created by Chris Diffenderfer (Mu, DWS 2008!).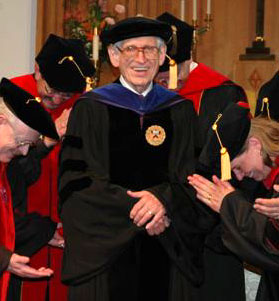 Jerry Borchert spoke briefly to the alumni gathered for the alumni seminar in June to fulfill a promise made to Bob Webber. As you may know, Bob encouraged many students and grads to publish their research and writings on worship. (His legacy lives on!). As his health declined, Bob asked Jerry to take up the joyful task of encouraging and facilitating the publishing of books by IWS alumni. Listen to Jerry's heartfelt words (4:54), and consider the impact you may have by publishing some of your work.
Carl Peters, DWS (Beta, 2003)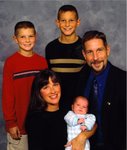 Following eight years of ministry in Saint Augustine, Florida, Carl and his family moved to Grass Valley, California after graduating from IWS to serve at First Baptist Church in the Sierra Mountains, not far from Lake Tahoe, where he served for 3 years. He is now serving as music and worship pastor at Anchor Baptist Church in Lexington, KY. The church is seven years old and is projected to grow by 120 people a year. In the middle of moving, Carl and Renee were blessed with a new baby boy—Hayden, now seven months old. Daulton is eleven and Kendall is eight. Carl says, "I continue to write about worship, teach classes on worship, read about worship, talk and obsess about worship." Check out his excellent blog at: http://carlmpeters2.blogspot.com/
Mark Mahaffie, DWS (Zeta, 2005)
Mark was surprised by a celebration on April 15 in honor of 30 years in the ministry. He served 14 1/2 years at Camden Ave. Baptist Church in San Jose, CA as Minister of Music and Education, and 15 1/2 years at Sequoia Heights Baptist Church where he is currently serving as Minister of Worship and Education. He is pictured with his granddaughter, Taylor, at the surprise party.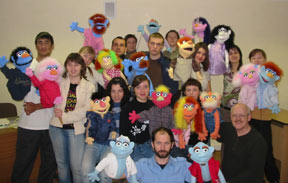 David Pannebecker, DWS (Theta, 2007)
This photo is from David's February 2007 trip to Kazan, Russia. He travels there each year to train church planters and Christian workers in the use of puppetry. David is the Minister of Worship and the Arts at Trinity Evangelical Free Church in South Bend, IN.
Merrill Smoak, DWS (Alpha, 2002)

This June, Merrill completed 29 years of ministry at Trinity Baptist Church in Livermore, CA. He was rewarded with a four week sabbatical in Turkey and Greece. Congratulations, Merrill!
Look for details on Merrill's trip in the next edition of Anamnesis.
Kent Walters, DWS (Alpha, 2002)
After 31 years of ministry at Grace Bible Church in Grandville, MI, the Lord

led me to resign my position as Pastor of Worship and Music effective April 30th. God has provided for us to be on sabbatical until the end of the year. I'm very grateful to the Lord for this season in my life: a much needed gift of time and space for rest, renewal and re-visioning. Though uncertain where or to what ministry the Lord may lead in the coming months, we are at peace that He will open the doors that will reveal His plan and fulfill the desires of our hearts. Thanks for your prayers.
Barry Wilson, DWS (Beta, 2003)
Barry has retired after 33 years of local church music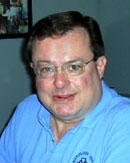 ministry and nine years as the minister of music at Kilbourne Park Baptist Church in Columbia, SC. He will be leading The Doxology Institute, a missional ministry to the artistic community based in the Midlands of SC, and teaching in higher education. Barry will be available to serve as a substitute or interim music and worship leader and also for workshops and speaking engagements. He can be contacted through www.doxologyinstitute.org or 803-783-7532.
Meet Monica Lopez, IWS Librarian
IWS is blessed to have Monica Lopez join the team as our new librarian. Having grown up in North Florida, Monica earned an MA in Library and Information Studies from the University of South Florida. She is experienced in library services on the university level and is expanding her competency in theological library matters through study and networking.
Monica is competent and personable, and eager to assist faculty, students and alumni in the areas of research and resources. During the June session she presented a library resource literacy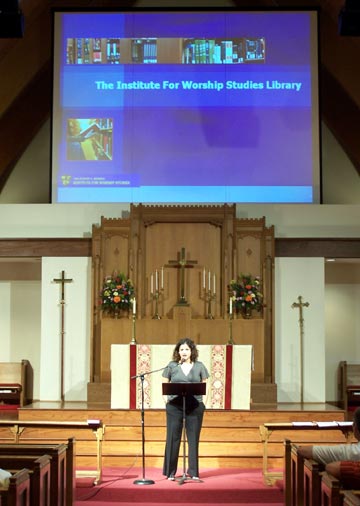 session to introduce the IWS library and the tools available on the Web site (pictured at right).
The IWS library currently has about 8000 volumes, including some 3000 of Bob's books. We are grateful for these wonderful resources that have been donated to the school. The goal is to have 10,000 books in our campus library. Our books are currently being cataloged and posted online. Sam Horowitz, our librarian assistant, is doing much of this work. You may search the IWS online catalog by visiting the library Web page where you will also find links to several useful electronic resources that will assist you in research. Monica desires to expand the resources available on the site to include access to additional free religious databases and e-books. So, check the site again in the future.
Go to the IWS library Web page.
Contact Monica at library@iwsfla.org.
Dear IWS community,
Many of you have asked, "Is there anything we can do for IWS during this time of mourning and transition?" I have listed a few possibilities for you, and perhaps you can come up with others.
1. Pray for the school—students, faculty, staff, alumni and board, and especially our accreditation process.
2. Spread the news. Help us recruit new students from your sphere of
influence.
3. Carry on the legacy of IWS (as I know you do) through teaching and living out the principles you have gleaned here, and helping us to be faithful and accountable to our mission. Bob saw this school, his writings and his students as his major contributions to the church.
4. Give to the various funds of the school:
a. Annual Fund: unrestricted gifts used to assist in essential operating
expenses.
b. Robert E. Webber Endowment Fund: permanently restricted gifts used to fund faculty chairs. This is our official Robert E. Webber memorial fund.
c. Scholarship Funds: temporarily restricted funds used to help students who need financial assistance to attend IWS. We provide partial need-based scholarships for a number of students, including some foreign students. Currently we are beginning scholarship funds for several potential African students, including the Anglican Archbishop of Rwanda.
d. Library Fund: temporarily restricted gifts used to build our library and research tools.
e. Newly named endowments: permanently restricted gifts used to fund faculty chairs or capital campaigns (planned giving/estate planning opportunities go into this category).
You could also help us locate folks who may be interested in supporting an endeavor like ours. Again, this could/should be in your sphere of influence. Churches should be asked to consider giving to IWS as a mission, particularly if they have benefited from a staff member or parishioner going to school here.
Thank you for your encouragement and prayerful support.
Grace and peace,
Jim Hart
May 9, 2007
© 2007 The Robert E. Webber Institute for Worship Studies