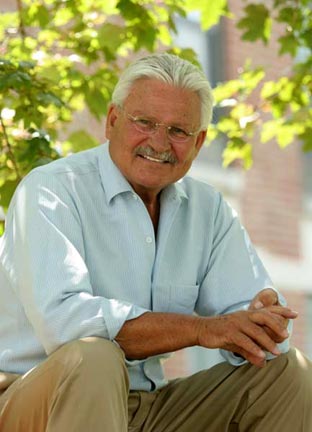 Heavenly Father,
into your hands we commend
the soul of our dear friend and yours,
Bob Webber.
Dear IWS Community:
As you now know, our dear friend has now passed through gates of splendor into the very presence of God. We will miss him beyond what any of us can imagine.
My heart travels back over nearly twenty years of precious memories of learning from him, fellowship with him, working, worshipping and laughing with him. Now we'll have to wait awhile to see him again.
Of course we grieve losing him here, even as we rejoice in his home going. But our grieving is filled with hope, because we know we will indeed see him again.
Many of us will feel dispossessed in the coming months. Bob's ministry impact in our lives has been so deep. I'm reminded of Peter's question to Jesus, "Lord to whom can we go? You have the words of life."
The question was asked in the context of many of Jesus' followers having just forsaken him because of his challenging words. Jesus had asked the twelve, "Do you also wish to go away," which prompted Peter's question.
While contemplating Bob's death, I began to hear Jesus' answer to Peter's question in a new way. First off, it is easy to apply Peter's comments to the impact Bob has had on us. He has brought us words of life about worship, about Jesus, about the history of the Church and about life itself.
But Jesus' reply to Peter's question, "To whom else can we go?" has significant ramifications for us too. He says, "Have I not chosen you, the twelve? And one of you is a devil."
"To whom can we go?" To whom shall we turn when we lose our leader? "Have I not chosen you?" We turn not only to the Lord himself, but also to one another. And just as that earliest band of believers had a weak link, so our group also is not perfect. But we turn to one another, nonetheless.
There is also great assurance from the Lord regarding how to deal with the passing away of a leader in the opening verses of the book of Joshua. The narrative begins, "After the death of Moses the servant of the Lord, the Lord spoke to Joshua . . . "
That finality of the opening words in Joshua about Moses' death hit very hard, and then launch into words of assurance. Before ten verses go by, the Lord says to Joshua three times, "Be strong and courageous." Also in those opening verses are multiple assurances from the Lord that he would be with Joshua.
For some of us, it may not be overstating the case to liken our response to Bob's passing to what Joshua and many in Israel may have felt when Moses died. There is a vacancy, a sinking feeling. But the still small voice comes to us just as it did to Joshua. And he urges, "Be strong and courageous; I will be with you."
Let's take the time we need to mourn the passing of our friend, to grieve that we don't have him here among us. Then let us rise and continue the work he has begun. There is much to do. And just like Joshua, we have our marching orders.
The blessing of God the Father, the peace of the risen Christ and the comfort of the Holy Spirit be with you all.
Darrell A. Harris
Dean of the Chapel
The Robert E Webber Institute for Worship Studies
________________________________________
________________________________________
The Robert E. Webber Institute for Worship Studies
151 Kingsley Avenue ? Orange Park, FL 32073
Phone 800.282.2977